Hello! Welcome to the NEKI family! We are glad that you are interested in our token and excited in joining the team.
We are currently looking for promoters to work with us in the long run, both for the presale, the token launch, and future marketing campaigns.
We are looking for motivated, dynamic individuals with previous experience in crypto marketing, promoting coins and tokens on telegram, discord, and other social media platforms.
At this time we are not looking for moderators or group hypers, only marketers and shillers.
Please find the rules and payment plan we are offering below:
How do we track the total invites?
Telegram
We review your work via personal invitation links. Please DM our mod @s_o_n_ny to create your personal invitation link, please check with him your total invites every Friday: https://t.me/s_o_n_ny
Discord
To check your total invites in Discord just type /invites, as for the personal invitation link you need to create it yourself in order to be linked with your username, its quite easy, check these instructions: https://www.alphr.com/discord-create-invite-link
IMPORTANT
PLEASE ONLY INVITE REAL MEMBERS FROM CRYPTO RELATED COMMUNITIES. ANYONE INVITING BOTS WILL BE AUTOMATICALLY DISQUALIFIED AND BANNED.
There is no time limit for gathering member invitations, your total number of invitations never expires.
The total number of invitations are checked every Friday (snapshot 10 AM UTC), please remember that they will only be checked once every Friday.
See examples below:
Telegram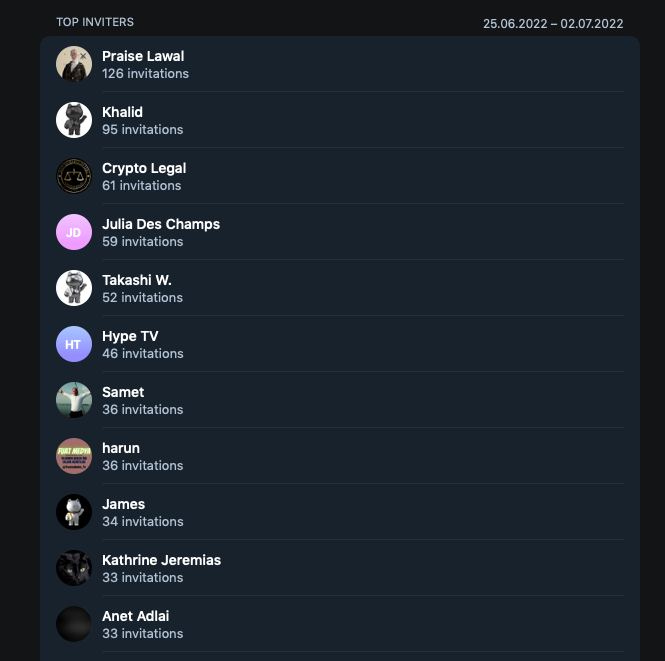 Discord
How will I get paid?
You get paid 1 XNEKI for each member invitation, so for example, if you get 413 invitations you will get paid 413 XNEKI.
XNEKI's price is around $1.2 USD.
You will start receiving payments after the first 300 invites (300 XNEKI).
After gathering the first 300 invites on Telegram and/or Discord you will be able to request weekly payments based on the total number of invites (Min 100 invites to request a payment), invites are accumulative and don't expire.
Payments are issued every Friday, please make sure to have a Metamask or Trust Wallet BSC address to receive the payment.
Please note that the maximum number of invites per person is 5,000 (5,000 XNEKI).
Please add the following contract address to your Metamask or Trust Wallet to be able to receive XNEKI: 0x9FE708c48b83c8A4cf579EF9dAF4dB5D713297fc
Digits: 8
Network: BSC
XNEKI: XNEKI is NEKI´s stakable coin, it can be swapped for NEKI or BNB via NEKISWAP, it can also be staked to receive BNB (6% APY).
What is the price of XNEKI?
Important: Please read these conditions and the payment plan thoughtfully, we don´t pay by days, weeks, or months. Our payments are based on the total number of invites achieved by each marketer. We don't issue prepayments.
Please abide by the rules:
1 – NO ASKING FOR PREPAYMENTS
2 – NO BEGGING
3 – NO ASKING TO PAY FOR SUBSCRIPTIONS
4 – NO HARASSING THE MODS/ADMINS VOTE COUNTING AND PAYMENTS ARE MADE ON FRIDAYS BETWEEN 10:00 AM AND 17:00 PM UTC
5 – NO ASKING FOR TAGS, TAGS ARE PROVIDED AFTER 200 INVITES HAVE BEEN COMPLETED
Please respect the rules and behave accordingly, not respecting these rules will get you dismissed as a marketer
For any questions regarding marketing, please contact @s_o_n_ny on Telegram or Discord.
Please use the following image and text to shill and promote the Telegram groups and Discord server. Don't forget to replace the Telegram and/or Discord links to your personal invite links: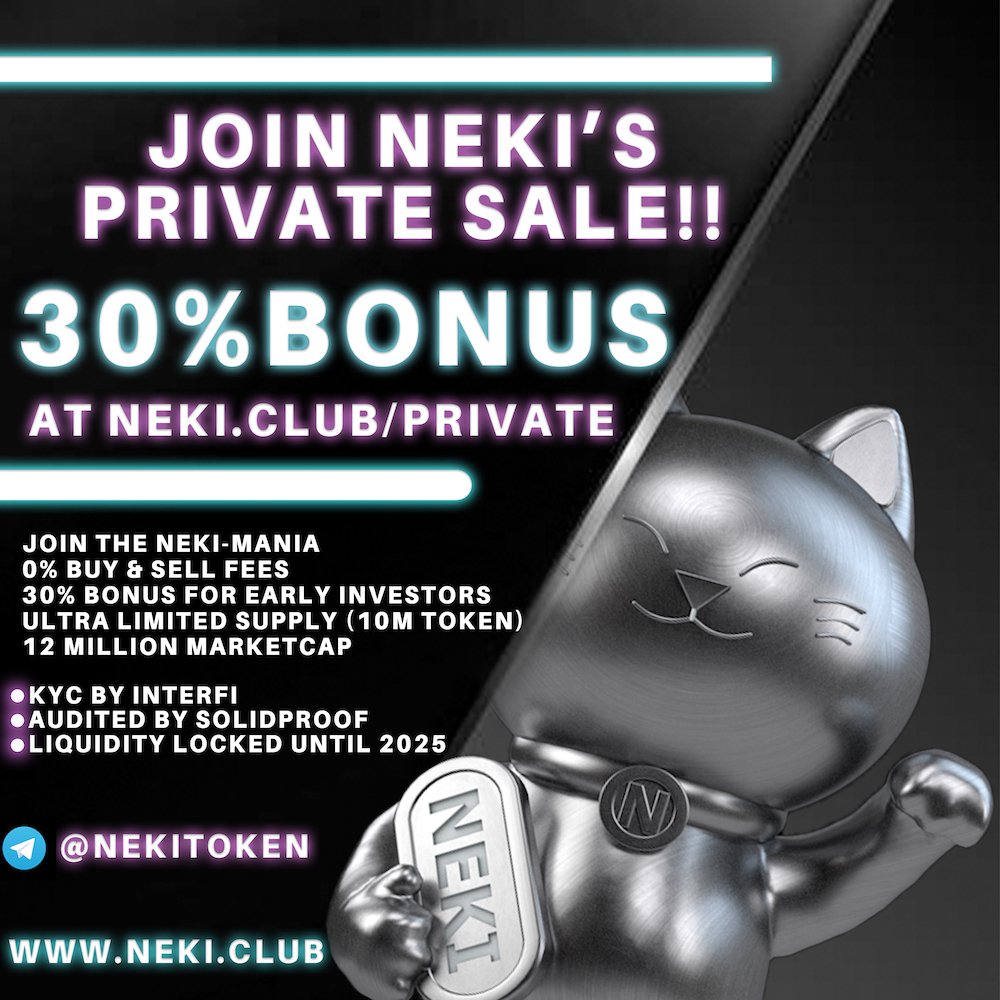 Missed $BNB, $LINK, $DOGE and $SHIB?? Don't miss out on $NEKI this time!!
🔥JOIN THE PRIVATE SALE!!🔥
Private Sale link: https://neki.club/private
NEKI is offering early investors a 30% discount on $NEKI during its private sale. Investors who back the project now will receive an extra 30% of $NEKI tokens.
KYC + Audits | Liquidity Locked | Ultra limited Supply (10M) | 0% Fees | 500 Exclusive NFT's | Merch & More
✅ KYC by InterFi
✅ Audits by SolidProof and CoinTool
✅ Liquidity locked in Dx Liquidity Locker
To learn more about the project please check:
* Website: https://neki.club
* Twitter: https://twitter.com/nekitoken
* Instagram: https://instagram.com/nekitoken
* Telegram: https://t.me/nekitoken
* Discord: https://discord.com/invite/NmUp5szJ2x
* Medium: https://medium.com/@nekitoken